Beyond school, beyond work, there are always things to learn
Nowadays, information technology (IT) and web technology have become indispensable tools in business management and communication. Our IT course aims to provide students, fresh graduates and businessmen alike, with basic principles of IT and internet for advertising, PR, as well as sales strategies. Going beyond simple, trivial techniques, we are committed to developing students' real skills in a thorough manner.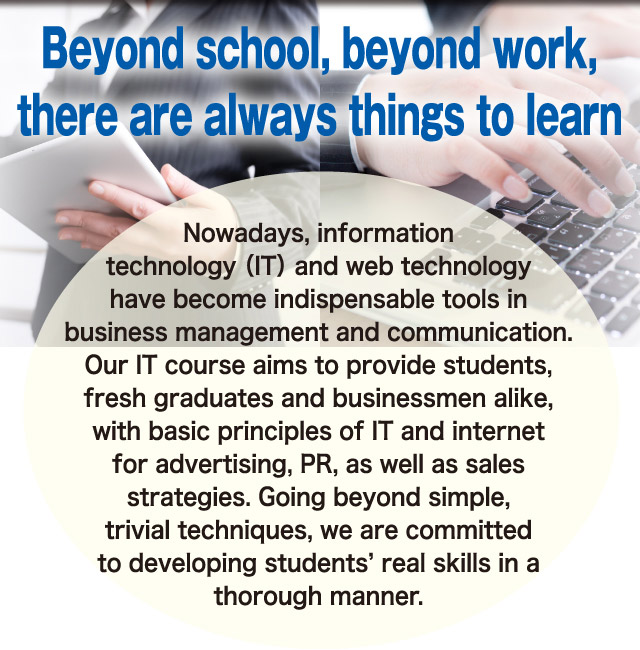 IT training course
Starting from July 15th
Does anyone happen to recall what "the IT revolution" is?
Or was it forgotten in the course of history?
What is "IT" to you?
Is it "Imagination Technology"? Is it "Innovative Thinking"?
Is it "Individual Therapy"? Is it "Iced Tea"? It could even be "Ikemen Type"!
"IT" could stand for a lot of different things – whatever you want it to be.
Unleash your imagination and define for yourself while enjoying our lessons!
Course highlights
Covering both theory and application, one session per month (3rd Wednesday), 12 in total.

The course lasts for one year with one session every month. Topics to be covered include: history and significance of IT, effective application methods, and web design techniques.

Course content

What is IT? Welcome to the Information Age!19:00~

The Splendid 25-year History of Homepage19:00~

Web 2.0 – Is This Finally The End?19:00~

Internet Transactions – Online Sales and Purchases19:00~

Mobile, Cloud, Ubiquitous – How Information Floats Around19:00~

Utilizing SNS – Social Media is for Everyone19:00~

Copyright Law in the IT Age19:00~

The Imminent Threat – From Personal Information to Cyber-terrorism19:00~

The Advance of IT and Our Future19:00~

Basics of Web Design19:00~

Common Mistakes in Web Design19:00~

Rules for Web Copy19:00~

Please note that if you are absent for more than 2 sessions consecutively, you might be withheld from registration for the following sessions.
Contents and order of the lessons are subject to change.
Experienced, professional instructors

Through first-hand lessons, students will receive comprehensive instructions from professionals in the IT and web industries to improve both practical knowledge as well as applicable skills.
No admission fee. Tuition is collected after each session.

Tuition fee (up to 3000 yen) is decided by students according to their satisfaction after each session. If you find the lesson worthless, you can choose to pay nothing.
Students, international students or company employees
– All are welcomed!

Company workers in charge of web management
University students interested in a career related to IT, web
International students (especially students from Asian countries) wishing to enter a Japanese company
Anyone with an interest in internet technology
We're looking for:
People
interested
in IT yet never
received formal
IT training

Students
realizing the appeal
of IT, wishing to work
in the industry in the
near future

People
stressed out by
lack of confidence
in their own
IT skills

International
students wishing
to utilize IT
for exchange
activities

People wanting
to comprehend the
overflowing impact of IT
on their surrounding
environment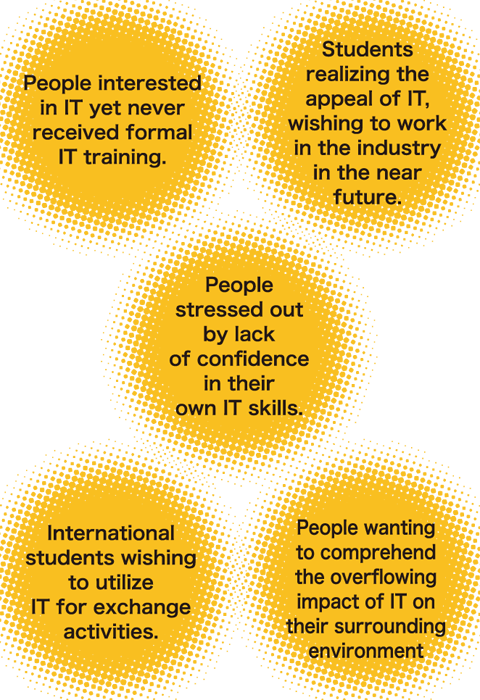 Access
– Further information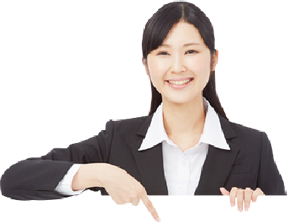 Conducted by:
Sennensha Ltd. Advertising Agency
Sennensha Ltd. Creative Studio
http://www.1000nensha.com/
Schedule:
3rd Wednesday every month 19:00 – 20:30
Address:
461-0013
Nagoya-shi, Higashi-ku, Iida-cho 38, Ei-tech Izumi Building 3F
City bus: 5-minute walk east from Higashi-katahata stop (450m)
Subway: 10-minute walk north from Takaoka station (800m)
Contact:
sennen@sweet.ocn.ne.jp


Registration form
Application period has ended.